Private Sessions, Workshops and Training with Maggie Adkins, EFT Founding Master
EFT Tapping across Australia and around the world!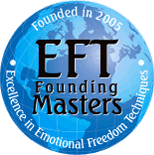 Private sessions are available with Maggie for $175, including a follow-up email with suggested tapping. For more information, call 02 6559 4745 or email Maggie earthwomandreaming@bigpond.com
Sessions
I share Gary Craig's passion to empower as many people as possible with the gift of EFT.  To that end I have worked with clients and students across the globe for over twenty years.
Healer, Heal Thyself
About 35 years ago, Stephen Levine, who worked with the dying, and who was one of my greatest teachers, said:
"You can only help others in their pain and suffering to the extent you have investigated your own."
When he said that, it affected me deeply and I vowed that when I see something in myself that is not pleasant, I would do my best to release it.  EFT has helped me the most with this mission.  Meditation and other forms of mindfulness have also helped me a great deal as have supportive, nurturing friends.  I also have to say here that I am very human and, like all others, am perfect in my imperfection, which IS the human condition.
Heal Illness, Then Release Dis-ease
One of my favourite shamans, Albert Villoldo, once said that when you get bitten by the snake, you get medical treatment immediately.  After you are healed, you go to the shaman and ask, "Why did the snake bite me?"
Since I believe that everything begins with energy, a vibration, frequency, whatever you want to call it, and may then transform itself into the physical world, I believe Alberto is a hundred percent correct,  If you feel inclined to find out more about Alberto, his website is www.thefourwinds.com.
My Favourite Clients
Because EFT is so self-empowering, I teach clients how to tap as well as how to get the most out of EFT for their particular issues.  Most of my clients then tap on themselves and are able to fast forward their healing process.  I totally want to be available to clients when they want support.  At the same time if I don't hear from you for a while and then you call, my assumption is you have been doing pretty well and then got stuck.  Typically most clients work with me 1-3 times, doing some tapping in between sessions.  If you do not want to tap on your own, that is also absolutely fine.  Then, 2 weeks, 6 months or even 10 years later, when you get stuck, you call or email me and we have a session or two.
Those are my favourite clients.  We work together, they do their inner work a bit on their own and they know to come back when they are stuck whether it is one week or ten years.  This is what most of my EFT Practitioner clients do.
And I have to say it again - I love the self-empowering ability of EFT.
How Do I Work With Clients?
If a client knows of a specific trauma or specific things that they believe have sabotaged them in any way, we go directly to those issues.
Sometimes it is not so clear.  Examples are when a client wants to release low self esteem, lack of confidence, chronic anger or critical mind issues.  Often these kinds of issues were created over time with nothing specific remembered.
One of the wonderful things about EFT is that you can do it from wherever the client is.  If you only have generalities, you can do EFT on those generalities.  In doing that, it is possible that specific traumas will show themselves as you are tapping.  We would then shift to doing EFT on the specific issues.
Foundation Traumas Create Triggers for Future Trauma
Sometimes a client will tell me about a trauma that happened last month or last year.  When that happens I will ask something like, 'When do you first remember anything like that happening?"
What happens is that we have a trauma, most probably in childhood.  We may or may not remember it.  That trauma triggers more traumas when a similar situation presents itself and a similar feeling is felt in the body.
Here is an example:
"A man finally got his dream job but was dismayed to find that he had to work in a multi story building with an elevator to take him up to his office.  He had a long held  fear of small enclosures.  He worked with another EFT Practitioner before me and that person tapped with him and got on an elevator with him and they tapped and the client felt relief.  However, the next time he got on an elevator the old fear was back.  He called me to tell me that EFT did not work – at least it did not last.  I suggested we do a session and if he got nothing out of it he would not have to pay me.  He agreed.  I asked him what that elevator reminded him of and he told me a story about when he was a small child with an older brother.  They got into an argument and the older brother, who was baby sitting him, pushed him into a small enclosure under the stairs and latched the lock on the little door and then went outside and forgot about his little brother who was screaming in the dark.  My client was in total darkness in a small space and imagined all kinds of horrible things.  He hollered and cried and he said it seemed like forever.  Finally his parents came home, heard him crying and immediately let him out.  We did EFT on that specific trauma, got rid of it in one session, and he had no more fear of small enclosures." 
He now loves working on the upper floor, jokingly saying that the views are much better at the top.
This is a great example of a foundation trauma creating triggers that create more trauma.  If you go into fear often when a certain situation arises, you might want to look back in your life and see if you can find a foundation trauma.  With EFT it does not matter how big it is or how long you have had it.
I have had clients tell me they do not want to go "back there" again but that is only because the techniques they were using did not release the issue.  If you have that mind set, please consider doing EFT, especially if there was a specific trauma involved.
Sometimes there will not be a specific trauma.  Using EFT, we can track the issue to the easiest way to work with it.  It is important for EFT Practitioners to be both great and gentle detectives.
Let's Not Forget About Our 4-Legged Friends

I learned many years ago when a dog barked most of the night that animals respond well to EFT in a surrogate situation. I finally tapped for the dog being afraid and it stopped barking. I thought it was a great coincidence at the time however, after tapping for other animals I wasn't so sure.
There is a lot of evidence now that doing EFT with an animal that is not physically present where the tapper is – well, it not only works, it is a pretty wonderful thing to do.
If you are interested in helping animals and owners with EFT, please see article about Sarge, the handsome horse pictured here.  It is in my articles section CLICK HERE >>
Please know that I am usually available for a session within a week – if someone has severe trauma, I can be available within 24 hours.  I like to receive an email before the appointment with information about whatever issue you want to release – no more than half a page please.
It simply saves us valuable time in the appointment and if that is difficult for you, you do not have to do it.  I charge $175 per session and most clients have 1-3 sessions, even for the most intense core issues.  You can pay me with a credit card or direct deposit.  Many clients want to tap on their own, so I sometimes write a follow up email with suggestions.  
Workshops
Currently my favourite workshop to teach is
"Law of Attraction – Signed, Sealed, Delivered".
This is an interactive EFT workshop designed to help you become clear about what you really want and release the obstacles in the way of your receiving it.
This is a one day workshop with an option for follow up. If you have interest, let me know and I will inform you as they are scheduled.
This workshop will teach you how to use EFT to:
Release internal conflicts that cause sabotage
Release negative beliefs and old conditioning
Shift heavy negative emotions
Find and release those "yeah buts" that hide behind old patterning
Take visualizations and guided meditations deeper
And much more.  Workshop Fee:  $245
**Please note:  If making airline reservations to attend a workshop, always be sure you have airline insurance in case of emergency.  Also contact Maggie before making specific plans. Although it seldom happens, at times, a date may change or a workshop may already be full.  Thank you……
Approved Trainings
While I absolutely love EFT, I no longer teach the approved trainings. In the last 20 years,  I have taught over 500 approved Level 1, Level 2, Level 3 and Train the Trainer trainings.
I am now allowing myself to do what I enjoy the most which is working with clients. To work with someone individually and see them release obstacles that have held them back, sometimes for many years, is a total joy for me.
If you are an EFT Practitioner it is important for you to attend a training.  It is also important for you to work on your own issues and to that end, I am available.  This is my greatest joy in EFT, to help other Practitioners become all they can be, both for themselves and their clients.
If you want the approved workshops in order to become a Practitioner, I can recommend qualified professional trainers so please give me a call or email me. 
Feedback on Maggie
If you want to know more about how I teach, below is feedback about my workshops and trainings:
"Maggie's class is absolutely transformational. Maggie is a loving teacher who has the ability to stay very focused and present to each and every student. Her mastery of the technique is obvious, and all of us were competent in its use by the end of the day. Thanks to Maggie, I was able to come home and teach EFT to my husband. Even if you've studied EFT on your own or with DVDs, don't miss Maggie's class. I can't wait to study level 2 with her!"
Robin L. Silverman, Grand Forks, North Dakota.
 "I liked being comfortable enough to open and share my feelings. You were very professional and had just the right amount of humor. Good handouts. Good timing of presentation and appreciate your empathy."
Kate Maxwell. Salt Lake City, Utah
"Maggie's warm, caring teaching style immediately put me at ease. Maggie's knowledge and intuitive nature added dimension to the beginner's class. I enjoyed the way she intertwined stories of what other EFT students are doing and their successes. It was very inspirational for me."
Carol Murie, Minneapolis, Minnesota
"Thank you for blessing us with an A1 class. You were creative, confident and humorous as well as professional. I am happy to have played a role in bringing you to Corrales, New Mexico."
Peggy Langenwalter