If You Are In Fear Your Horse Knows It
Releasing Fearful Behaviour From A Horse and Rider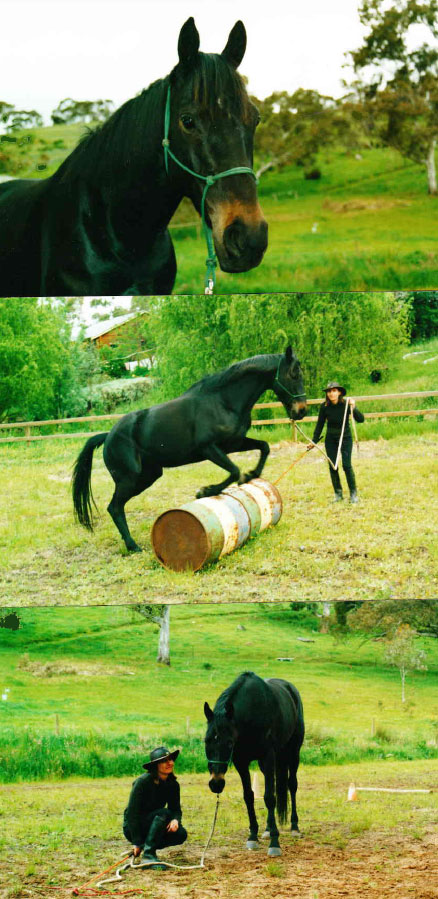 When I was in the U.S. many years ago, I did EFT workshops for horse people. I love horses and some of my happiest memories are of experiences with my two horses.
I have watched many people with their horses over the years and I know that when you are in fear of your horse, there are not going to be such wonderful memories.
If you know anything about horses, you know that if a rider is in fear, the horse not only knows it, but reacts to it.
Ann-Marie came to me to tap on herself for her lack of confidence issues with her horse, Sarge. Sarge's behaviour had been such that she was in fear of being hurt by him. He acted out in different scenarios and it was important we work on both of them. Some of his fearful behaviour occurred in clinics around other horses and he had never been calm in those situations. Some of his negative behaviour – we call it separation anxiety - occurred when she separated him from his best friend, Restina.  And last, but not least, he bucked which is sometimes a difficult habit to stop and is very dangerous.
We tapped surrogately for Sarge in our appointment as well as for Ann-Marie's lack of confidence and fears. I want to point out that, while I would love to claim all the success from our one appointment (LOL), Ann-Marie continued tapping on her own. The main point is that EFT changed both her life and Sarge's life immensely.
Here are Ann-Marie's own words:
"After our session I took him to a training clinic and he was absolutely outstanding in his behaviour.  He was not at all worried about anything, and I was able to ride him like I have never been able to do before.  He was trotting around like my very calm Arab mare Rastina does.  It was amazing. 
The interesting thing was that we tapped on his separation issues and although that has improved slightly – the tapping seems to have had a bigger effect on his general level of confidence.  He still has the separation anxiety if I take Rastina away from him.
I really wonder whether the tapping we did had a bigger effect on me and so when I was with him at the clinic something had changed for me and he got a lot of confidence from me.  In all the years I have had him and done a lot of riding with him, he has never been able to trot around calmly."
It doesn't really matter whether the tapping we did surrogately on Sarge or the tapping on Ann-Marie changed their lives. What is important is that EFT did, in fact, change their lives.
I love to work with animals using surrogate EFT as well as tap with their owners on the issues they bring to the relationship. If you have questions about this outstanding way to use tapping, please feel free to contact me.
Compliments of
Maggie Adkins, EFT Founding Master